Congratulations Sr. Jaime! She professed her final vows on Saturday September 22. See more pictures here!
Read Sr. Jaime's story in the Fairfield County Catholic.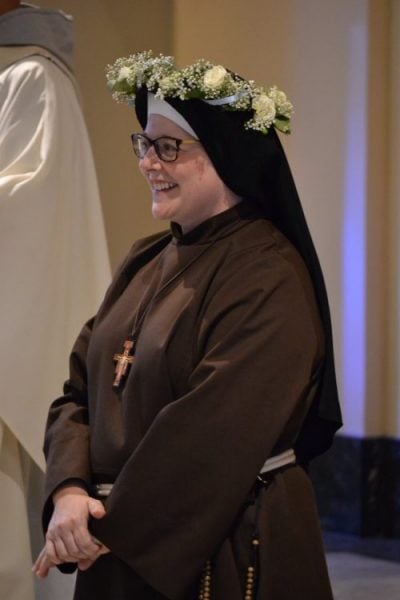 Chicago Marathon is coming fast … Sr. Stephanie was recently featured in the Fighting Illini–check it out here!
Thanks to Anayeli Ruiz and NBC for the great story on Sr. Stephanie, Sr. Alicia and Team OLA running the Chicago Marathon. Donate today!
Thanks to Alexander Campbell/Medill Reports for the fantastic story on our Back to School Block Party. Thanks to all who helped us get +350 backpacks full of school supplies to our neighborhood children!
+++++++
The Franciscans of the Eucharist of Chicago are a Catholic religious community living and serving in Chicago's West Humboldt Park neighborhood. Our life centers upon our relationship with Jesus Christ in the Eucharist. Out of our life of prayer flow our apostolates–Eucharistic Adoration, service to the poor, Evangelization and teaching. We believe that if you can't see Jesus in the Eucharist, you can't see Him in the poor. Come join us as we work to serve our brothers and sisters in need!
"Hold back nothing of yourselves for yourselves, that He who gives Himself totally to you, may receive you totally!"
~ St. Francis of Assisi
Learn more about our apostolates at www.MissionOLA.com