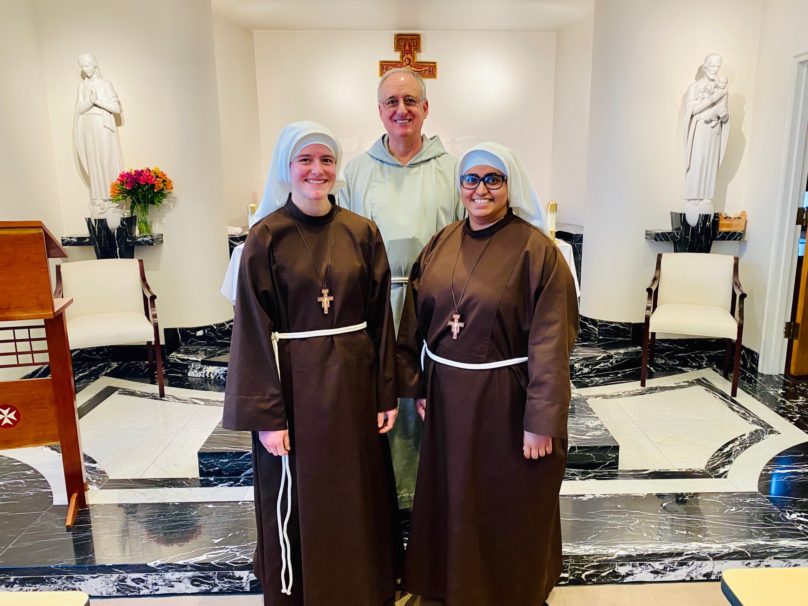 Thank you to Fr. Tom McCarthy for interviewing Sr. Emily about her vocation journey. Enjoy the interview here!
Uniting In Prayer
Friends, know of our prayers for you as we unite spiritually as the Mystical Body of Christ in this difficult time. Let's pray for an end to this pandemic, for healing for those who are sick with coronavirus, eternal rest for those whose lives have been lost and for comfort and hope for all of us who confront the daily uncertainty and anxiety. Let's pray for prudence and for peace.
Each day Fr. Bob continues to celebrate Mass in our private chapel. Our community is praying before Our Lord in the Eucharist every day, throughout the day. We continue to get food out to the most needy in our community, taking all the necessary safety precautions. Please keep us in your daily prayers as we strive to respond to the great needs of this time.
In many places public Masses have been suspended in an effort to help stop the spread of coronavirus. The good news is there are many places live streaming Mass daily! Pope Francis, The Archdiocese of Chicago and Bishop Barron and Fr. Steve at Word on Fire have daily Masses streaming, Fr. Peter of the Archdiocese of Chicago has prayer services, Adoration and Mass on Instagram at various times throughout the day and the USCCB has Daily Mass Reading Reflections.
Remember, Jesus said in Matthew 28:20: "Behold I am with you always …". Now is part of always. The Risen Lord is with us, and with Him we will overcome this pandemic.
Be sure to check our blog for new posts and more pictures.
+++++++
The Franciscans of the Eucharist of Chicago are a Catholic religious community living and serving in Chicago's West Humboldt Park neighborhood. Our life centers upon our relationship with Jesus Christ in the Eucharist. Out of our life of prayer flow our apostolates–Eucharistic Adoration, service to the poor, Evangelization and teaching. We believe that if you can't see Jesus in the Eucharist, you can't see Him in the poor. Come join us as we work to serve our brothers and sisters in need!
"Hold back nothing of yourselves for yourselves, that He who gives Himself totally to you, may receive you totally!"
~ St. Francis of Assisi
Learn more about our apostolates at www.MissionOLA.com